Should you go to the police for an arrest inquiry or a warrant check in New Orleans, Louisiana?
Sorry folks, but if you are looking for details on arrests in New Orleans or on locally issued warrants, you will have a rough time locating the information online. Perhaps, you ought to blame this on the fact that the police and the judiciary serve the consolidated city-parish of New Orleans, which means they have to serve a larger geographical area.
In any case, all state agencies seem to have an extremely guarded approach to providing crime data including arrests records in the public domain. This would mean that initiating an arrest inquiry or a warrants search wouldn't help much. Find out if that is true…
Is there any facility available for an arrest inquiry in New Orleans?
The first thing you need to understand is that you won't get access to arrest log for the area. However, it is possible to find out if somebody you know is currently holed up in the city/parish jail. Yet, this would not qualify as an arrest records search because you only get details on current inmates and not those who have been released on bail.
The arrest app is provided on http://www.opcso.org/inmate/inmate.php. Although it is a name-based tool, you will have to provide the last name and at least the first two characters of the first name and the race and gender of the subject. Be warned that the facility can be a bit finicky and slow at times.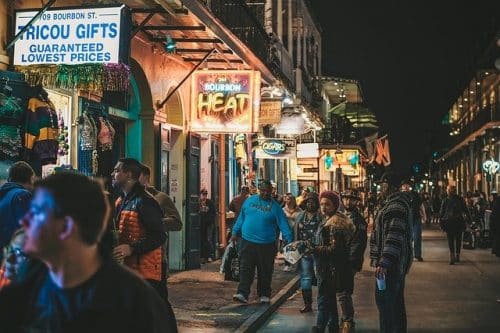 What if you are interested in an arrest report from New Orleans?
Because Louisiana is a closed records state, you cannot get access to the rap sheet of a third party. In fact, you cannot seek the arrests records of another person unless you represent a company that requires a criminal background check for making hiring decisions and the prospective employee has been notified of this. If that's you, a criminal history check can be initiated through two agencies:
Can you do a warrant check in New Orleans?
By now, you must have gauged that details on active warrants from New Orleans and to that matter the state of Louisiana are near impossible to come by. Having said that, you could try your luck with the court docket search tool at http://www.opcso.org/index.php?option=com_wrapper&view=wrapper&Itemid=738.
Crime Stats for New Orleans, Louisiana
Although the metropolitan area seems to have earned itself a permanent spot in the list of cities with the highest violent crime rate, things have actually been looking up for New Orleans in recent years. If the end of 2019 figures are any indication, the rate of murders has dropped in the city, which reflects in the overall decrease in the violent crime rate of the area.
However, this drop has been completely and understandably overshadowed by the 60% rise in cases of car break-ins. In fact, the overall growth in property crimes is definitely worrisome. In terms of annual complaints, nearly 4600 complaints are made against violent crimes while over 18,000 reports are filed in matters relating to property crimes.
related: